Blockchain Development
Originally built for Bitcoin, Blockchain technology is today no longer limited only to cryptocurrency but can fundamentally alter the way enterprises, financial institutions and other entities share data, exchange assets and enforce contracts. Eliminating the traditional centralized control from the picture, the promising technology establishes a decentralized database that does not rest with a single provider; rather it is simultaneously hosted by a massively distributed network. Secure, transparent and verifiable, it's virtually impossible for the stored data stored to be manipulated in any way.
At Openwave, we know that Blockchain development is the way forward – and that's exactly where we're headed with our focus on disrupting industries through revolutionary technology solutions. With the technology ready to transform the way businesses are transacted across diverse verticals and economies, on the whole, we have the in-house expertise and profound knowledge to realize its full potential.
Want to devise a private blockchain for your organization? Got an out-of-the-box idea that can alter your industry dynamics? Find the answer to all your requirements at Openwave. With an innovation-driven approach, our solid expertise in experimenting and deriving the best out of leading-edge technologies makes us the apt choice for Blockchain development.
From creating customized blockchain Dapps to setting up a smart contract to launching an ICO, we can do it all! Talk to us today on +1 (212) 209-1537 and explore the future!
What We Do?

Cryptocurrency Wallet
Leveraging the increased acceptance of Bitcoins and other crypto-coins across the world, we can develop and integrate a secure and high-performing cryptocurrency digital wallet that can enable users to send, receive and monitor their holdings, thus attracting new users and stimulating platform growth.

Smart Contracts Development
Establish business automation to cut costs, save time, and reduce manpower or launch your company ICO using Smart Contracts. We build and implement the same using Hyperledger Fabric (Custom Blockchain) and Solidity, an Ethereum-based technology stack.

Blockchain Application Development
Right from building a viable POC (proof of concept) to setting up a full-fledged decentralized application (Dapps) based on the blockchain technology, our solutions are tailored to meet the defined needs and can be deployed both on mobile and web.

Custom Blockchain Development
Utilizing the power of Blockchain in storing immutable data, we can custom-craft a solution to test applicability of your business idea, create a prototype, and design a blockchain that aligns with your requirements.

Hyperledger
We create a peer-to-peer Blockchain network on the Hyperledger composer that offers transparency, security, enables collaboration, scalability and more. The solution can be deployed across Healthcare, manufacturing, retail, finance and any organization that requires a personalized blockchain.
Blockchain Use Cases

In Banking and Finance
With a secure, tamper-proof, and a decentralized ledger forming the core of banking and finance institutions, it is possible to achieve transparency, reduce fraud, speed up settlement and free up capital by cutting down infrastructure and middleman costs.

In Education and Academics
Academic credentials, by nature, must be universally verifiable. With blockchain technology, the cumbersome and loophole-ridden manual verification can be avoided, storing the information instead on a system that ensures complete transparency.

In Real Estate
A sheer lack of verifiability in real estate transactions and possible fraud in records can be eliminated using blockchain, wherein records, lease agreements, signatures, transfer information and more, are stored in a fully verifiable and accurate manner.

In Health Care
Sharing data across platforms has always been a hurdle in health care institutions. With blockchain solutions, better data collaboration between providers, patients and other parties can translate into accurate diagnosis and cost-effective care, without compromising on data security and integrity.

In Government And Public Services
Managing paper-based records and processes takes accountability away from authorities and leaves room for fraudulent activity. By digitizing records and storing it on a blockchain, heightened security can be ensured and information retrieval made easier.

Retail and Manufacturing
The shortcomings in several areas of retail and manufacturing such as supply chain management can be met by blockchain. All the involved parties can be connected to a blockchain to trace out transactions, root out discrepancies, and ensure superior quality control.
Our Product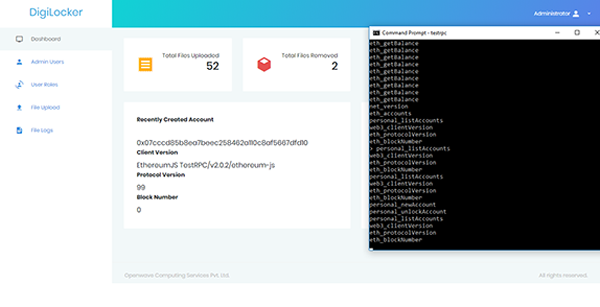 DigiLocker
---
A decentralized digital locker can be built in a server-less fashion (as a Dapp) by leveraging Ethereum's blockchain technology. It allows users to upload and store personal documents that are encrypted and stored in a decentralized manner). In the proposed application encryption keys are maintained and accessible only to the end user on their device/website. The user can also share the documents securely with other users that they choose. An Ethereum smart-contract facilitates this transfer and creates a verifiable audit trail of the same.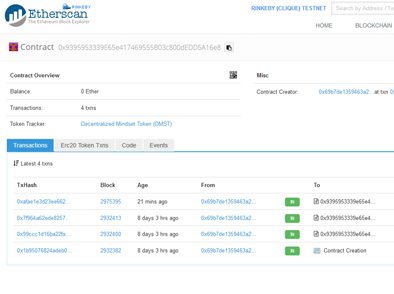 Decentralized Mindset Token
---
DMST Token implements the Proof-of-Stake mechanism, meaning that holders of DMSToken can earn some extra tokens just by holding DMSToken for a period of at least 7 days, greater than or equal to The Minimum Coin Age.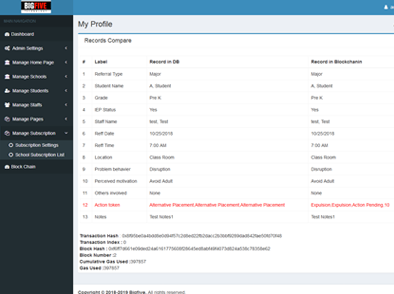 Big Five Discipline
---
Big Five Discipline is a web-based system and mobile app which will directly allow school districts to input, measure, and track office discipline referrals and rates of disproportionality. The referral data is secured and protected through the Blockchain network.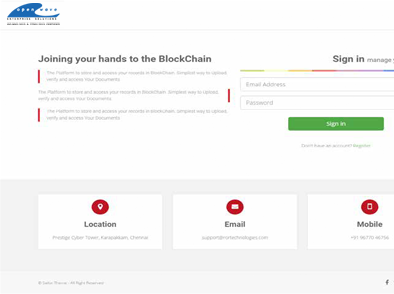 Blockchain Record Storage
---
Blockchain technology is the future – and this platform makes blockchain adoption in your organization quite simple. Upload, store, view, and verify your records and other documents using this versatile blockchain solution, and bring in increased transparency, information security and minimize chances of fraud.
Why blend in when you can stand out?
The future lies with
Blockchain Technology
– and we can make it happen!
Get a Free Quote
You May Be Interested In