Smart Factory Solutions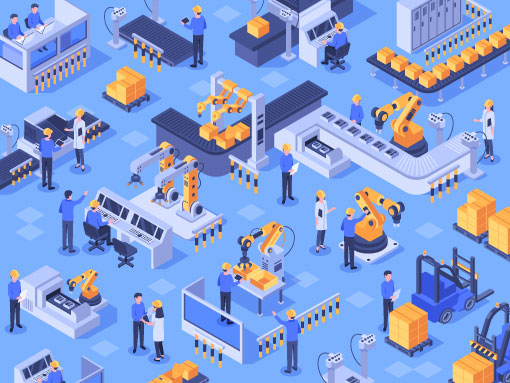 The fourth industrial revolution — Industry 4.0 refers to the integration of manufacturing with advanced technologies like Artificial Intelligence, Industrial Internet of Things (IIoT), Big Data, and Cloud Computing. This has led to the rise of what we know as "Smart Factory" or "Smart Manufacturing".
Breaking the traditional manufacturing model, Industry 4.0 offers a decentralized medium for the communications between equipments, sensors, materials, and controlling systems. It is extremely robust and powerful as it promotes business agility, cuts production costs, improves product quality, and enhances manufacturing efficiency.
Openwave delivers products and solutions that make your equipments well-suited for Industry 4.0!
Our desktop/client-server application renders intelligence and control to the manufacturing equipments, which are very old and work as standalone machines. Our industry-centric products and automation solutions assist smart manufacturing by following the SECS/GEM compliance.
Assuring product quality and leaving no room for customer complaints/chargebacks, our products enable faster time-to-market, reduced total cost of ownership, and optimized productivity.
Effectively manage and improve the manufacturing process of your products by connecting your equipments/machinery to our Industry 4.0 Solution! Get in touch with our experts!
Get a Demo