With Christmas less than a week away, it is officially holiday time and it's when online shopping takes place at a frenetic pace. Interestingly, 2017 has been the year of Mobile applications. More users made purchases through apps than through websites! Since mCommerce is likely to unseat eCommerce, it is imperative that you invest in mobile app development.
Choose Openwave and build mobile applications that make your brand stand out from the rest of the pack. Launching an app during the holiday rush can boost the visibility of your brand, drive sales, increase your user retention and enable you to profit from the post-holiday extravaganza.
Our team of application developers specializes in customized app development in expedited timeframes across the Android and iOS platforms. With extensive experience in the domain of IT solutions, we offer a wide range of solutions in mobile app development such as: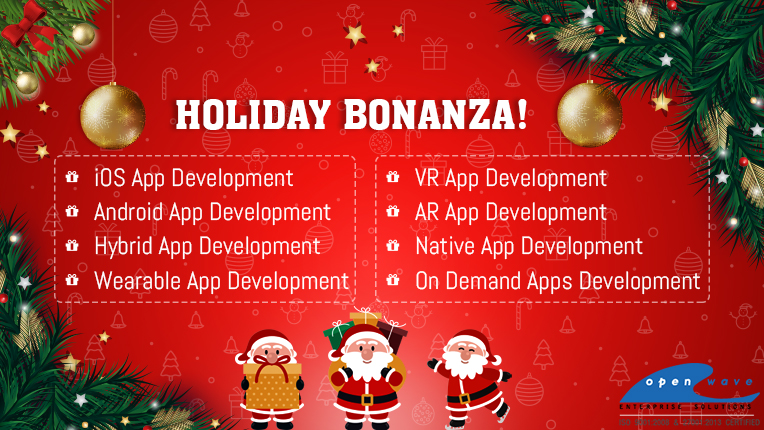 EXCLUSIVE HOLIDAY OFFER
The season of Christmas is all about looking out for our fellow kind and that's why we, at Openwave, have decided to help our fellow mates by enabling them to save some money. Opt for our mobile app development services now and save a whopping 10% on costs.
These are the goodies we offer:
Reduced hourly rates on all projects
Flat 10% savings on all app development costs(Use Coupon Code: OWC – HolidaySP)
Offer extended until the 10th January 2018
Free consultation with our business analysts
Offer open for all
Avail our services and save big on your app development costs. Kickstart your project by reaching out to our team of app developers in New York and get a free quote!